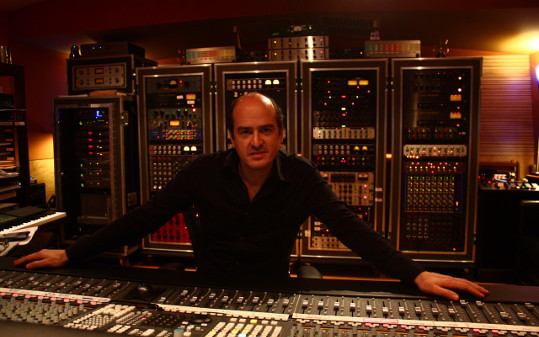 Rafa Sardina
Los Angeles based, 12-time Grammy-winner, producer/mixer/engineer Rafa Sardina has built an eclectic and impressive client list in the recent years: Stevie Wonder, Elvis Costello & The Roots, Lady Gaga, Michael Jackson, Rodrigo Y Gabriela, Placido Domingo, Celine Dion, Harry Conick Jr, Josh Groban, Mariah Carey, Shakira, Dr. Dre, Dru Hill, Armando Manzanero, David Morales, Jessy Moss, Luis Miguel, Paco de Lucía, Chris Botti, Susan Boyle, Katherine Jenkins, Zaz, Sheryl Crow, Soul Coughing, Beyonce, Beto Cuevas, Kevon Edmonds, Kina, Eric Marienthal, Juanes, Angie Stone, René Pérez from Calle 13, Illya Kuriaki & The Valderramas, blues legends Al Blake & Fred Kaplan, Michael Buble, Juan Gabriel, Jumaane Smith, Jackie Evancho, Naturally7, Cristian Castro, Clare Fischer Big Band, D'Angelo, Alejandro Sanz and Macy Gray among many others. He has received 35 Grammy Nominations, both American and Latin, for his work with artists such as Stevie Wonder, Lady Gaga, Luis Miguel, Clare Fischer Big Band, Illya Kuriaki & The Valderramas, and Alejandro Sanz.
Rafa's love for music began at an early age playing guitar and attending recording sessions in his native Spain. After four years in Medical school, Rafa chose to pursue his life-long passion: Music. A live sound stint with folk, jazz and world artists in northern Spain and the south of France led him to the United States. Soon after he landed an engineering position at the legendary Ocean Way Recording Studios in Hollywood and Record One Studios in Sherman Oaks. Rafa had the unique opportunity to work with world reknowned artists on a daily basis - from Natalie Cole to the Black Crows, Celine Dion, Greenday, Madonna, The Rolling Stones, Red Hot Chili Peppers, Frank Sinatra, the pre-recording of The Academy Awards and worked on numerous movies. Rafa's intuition to move to Los Angeles proved to be one of the most rewarding synergies of his life.
Though Sardina is best known for working on pop, rock and R&B projects, he has recorded and mixed just about any genre of music you can imagine: orchestral recordings, big band, R&B, dance, gospel, soul, rap, choral, film/TV soundtracks and movie scores like "Any given Sunday", "102 Dalmatians", "Michael Jordan - To the Max", "Biker Boyz", Tyler Perry's "Madea's Family Reunion", Johnny Depp's "The Rum Diary" and many more.
Favorite PSP plug-ins: all of them
"PSPaudioware plug-ins are not only very usable, but relevant for today's productions. These are some imaginative & outstanding plug-ins!"
More about Rafa: